Gelato Messina's Pisco Sour Brings Peru Down Under
---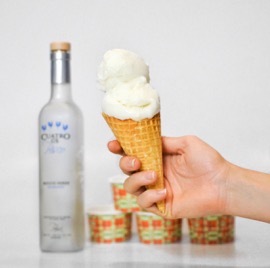 Gelato Messina's latest booze-infused concoction sees Peru's beverage of choice take the shape of a cool, creamy dessert for adults.
Joining forces with Australia's premiere Peruvian pisco distributor, The Pisco People, the Gelato Messina team have managed to make the traditional Pisco Sour cocktail even more irresistible – by turning it into a sorbet.
Peruvian pisco is a strong, clear spirit derived from 100% grapes and pairs well with everything from chocolate to cheese, as well as providing a base for cocktails and mixed drinks. The almost fluffy texture of a traditional Pisco Sour, made from a combination of quebranta pisco, lime juice, sugar syrup and egg white, allows the Peruvian spirit to really shine. The ever innovative Gelato Messina team have fused these ingredients with The Pisco People's Cuatro G's Mosto Verde Quebranta and allowed it to take the form of a gelato, essentially creating a solid cocktail.
Now is the time to introduce yourself to, reacquaint yourself with, or simply indulge in a taste of Peru.
The Pisco Sour gelato is available for a limited time in all Gelato Messina stores to this weekend (Sunday 8th of May). So run, don't walk, and taste the amazing Pisco Sour gelato today!
Find out more about the South American spirit taking Australia by store at www.thepiscopeople.com.au