Johnny Schuler – world leading expert on pisco – comes down under
---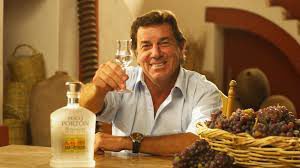 The Pisco People were excited to bring Johnny Schuler to Australia! Who is Johnny Schuler you ask? Well, Johnny is not only an author, chef, restaurateur, and television personality in the USA and Peru but is also regarded as the highest authority on Peruvian pisco. He is currently the master distiller for Pisco Portón and has more than a thirty-years of experience in educating people across the globe about the delights of Peruvian Pisco.
Johnny, who came to Australia as a guest of The Pisco People in early July, was here to promote Peru's national spirit and celebrate our inaugural Month of Pisco and prepare Australians to join with Peru in celebrating national pisco day on Sunday 24 July. While Johnny was here we asked him to comment on the following questions:
1. What is pisco and what does it mean to Peruvians?
Pisco is part of our DNA. We celebrate a birth, and mourn a loved one. We sing to it and we write poems to it … it's in our music and our paintings, it's part of our everything, everyday!
2. Are you seeing a growing interest in pisco in other parts of the world?
Mixologists around the world are discovering a spirit that adds character to a cocktail- it adds complexity and flavour. We must remember that as vodka is made from a veggie (wheat or potato), rum (sugar cane), tequila from a cactus (agave) and the alcohol in gin also from wheat. Pisco is the only white spirit made from a fruit: grape!!
3. How do Peruvians typically celebrate national pisco day
It is a festivity that is celebrated from border to border and from the Pacific Ocean to the Amazon jungle. In every bar, restaurant, park, beach and BBQ…we are rendering homage to our national drink!!Of course by toasting with it, to love, to friendship, to peace!
4. Can you recall your first pisco experience? What was it that made you fall in love with it?
I grew up in the restaurant business. My father had restaurants. I have restaurants. And Pisco was just for pisco sours. Until I was asked to organise the tasters in a Pisco Tasting competition. The first few samples were not good….but I remember it was the fourth or fifth that exploded in my nose and palate. I could not believe, nor understand, where this particular sample came from. Then it dawned on me that as there were many that were not that great, on the other hand, some were absolutely fantastic!
5. How do you drink pisco? Are you a traditional pisco sour fan or do you prefer to add your own twist? What's your "go to" pisco drink?
I love a well executed, perfect Pisco Sour! But where I find joy, pleasure, adventure, intrigue, discovery…even surprise…is when I sip pisco neat!!
6. For people travelling to Peru, what are you insider tips as to where they can go to get the most authentic 'pisco' experience? What drinks should they be trying?
Peru is a wonderful and mysterious country. There is beauty everywhere. But for the best pisco experience you must come to the Ica region. Visit an ocean national reserve at Paracas Bay! The bewildering and intriguing Nasca Lines, drawn on the desert floor and only seen from above! The magical Oasis of Huacachina!!! And then…..some few hundred pisco distilleries!!! How can you go wrong???
7. What are your favourite bars in Lima at the moment?
For a traditional pisco sour I love the English bar at the Country Club Hotel in San Isidro. At my own bar at The Key Club – an amazing speakeasy restaurant – we serve our deluxe pisco sour with the Pisco Porton Mosto Verde Quebranta. For a traditional Capitan head to the Ole bar in San Isidro. For the best chilcanos drop into to Antigua Taberna Queirolo. Order the una 'res' (one cow) and you will receive a bottle of pisco, sliced lime, ginger ale and a bucket of ice with 4 glasses. Invite your friends to join you or just hang out by yourself and drink the whole bottle!  Order a butifarra (pork) sandwich. Damn awesome and a perfect pairing for your 'res'!