Glass Brasserie Peruvian Dinner at the Hilton Sydney
---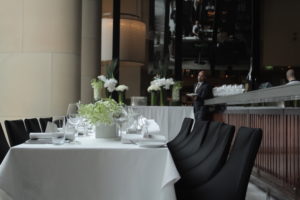 Saturday 9 July 2016 from 6.30pm
As part of the Peruvian gastro-trend sweeping the globe, internationally acclaimed Sydney restaurateur Luke Mangan is teaming up with Johnny Schuler – the world leading expert on Peruvian pisco – to present a Peruvian themed dinner amongst glass brasserie's beautiful atmosphere.
An intimate dinner experience, the dinner will include five Australian-Peruvian fusion dishes, with each course designed by glass brasserie's Executive Chef Joe Pavlovich. The menu includes Tuna, avocado and radish ceviche with a uni and lime emulsion; Locro de langostinos (prawn chilli stew); Tamale with confit duck, pickled cucumber and radish; Peruvian-style roast chicken and Dulce de leche parfait with banana fritters and syrup.
Paired pisco cocktails for the menu will be created by Fred Siggins – an international award-winning mixologist from the Black Pearl in Melbourne and Brand Manager for The Pisco People. Matched wines will be selected by glass brasserie's sommelier Mauro Bortolato.
During the dinner, Johnny Schuler will share the fascinating history of pisco in Peru along with insights into the 400 year old tradition of pisco making that is still used today.
Tickets $140 AUD per person.
Event commences at 6.30 pm.
Reservations can be made directly with the restaurant on (02) 9265 6068 or eat@glassbrasserie.com.au.
Also, all guests who attend glass brasserie Peruvian themed dinner will automatically receive an entry into the Month of Pisco competition with the chance to win a 7 day trip to Peru for 2 people valued at more than $6500 AUD.
Find out more about the Month of Pisco Competition via The Pisco People website.