L.A.'s Cocktail Scene Puts the Spotlight on Peruvian Pisco
---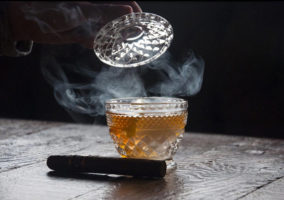 L.A.'s Cocktail Scene Puts the Spotlight on Peruvian Pisco
WRITTEN BY BRAD JAPHE – L.A. WEEKLY
TUESDAY, MARCH 15, 2016 AT 10:15 A.M.
The pisco sour has long been a mainstay on drink menus throughout Los Angeles. Made with egg whites and lime juice, it has a thick mouthfeel and a refreshing finish. Yet the cocktail doesn't do much to express the base spirit itself.
For a while, nobody seemed to mind. But in 2016, the underappreciated complexity of Peru's native hooch is generating an unprecedented level of attention. Showing up in increasingly complex cocktails and ascending in stature as a sipping brandy, pisco is finally ready for its closeup.
"To understand and appreciate Peruvian pisco, one must understand the pride and precision that goes into making the spirit," says Josh Suchan, lead bartender at FOH in downtown L.A. He's worked with the liquor for nearly a decade, delving deep during his time managing the bar program of a Peruvian restaurant. "Eight varietals of grapes from five production regions are distilled in a method that [allows] the true qualities of each varietal shine through."
The five most common grapes used in pisco production Moscatel, Quebranta, Torontel and Mollar, range from fruity to funky on the palate, nutty to floral on the nose. Typically, a bottle features some combination of these varietals. "Pisco may be bottled as single varietal or blended together — referred to as acholado — based on the flavour profile the master distiller wishes to achieve," Suchan says. "Pisco, being distilled from grapes, is categorically placed in the brandy family, but unlike other brandies, Peruvian pisco cannot be aged in barrels so as not to alter the spirit's natural flavors derived from the grapes." As a result, a daunting degree of precise craftsmanship is employed by the distiller to arrive at the desired outcome, straight from the still.
To illustrate pisco's versatility, Suchan developed a stirred cocktail, El Viejo, as a purposeful departure from the shaken sour. A variation on the old-fashioned, the drink showcases deep, nutty characteristics common to the Quebranta grape, accented by cocoa, roasted pecans and lemon oil. The drink is currently on the menu at FOH. At Nobu in West Hollywood, a lighter varietal of pisco was used to craft a Peruvian caipirinha fusion, using brown sugar and shiso to reinvigorate the traditional Brazilian cocktail.
Adaptability is a common theme when bartenders speak of pisco. Michael Neff of Clifton's Cafeteria started using it as a stand-in for more common categories. "It is bright and interesting and has a lot of nuanced flavor," he notes. "So it's fun to use in place of French brandies in traditional cocktails. It also has a very defined regional identity. I love experiencing a spirit that has that kind of cultural definition."
Ethnic pride plays no small role in elevating the spirit in a city with one of the highest populations of Pervuians outside of Peru. "That sense of community and desire to raise the category [is] very impressive, and [provides] a lot of people reason to give pisco the attention it's starting to receive on both coasts," Neff says. "Peruvian food is definitely on the upswing in L.A., so hopefully pisco isn't too far behind."
Since establishing itself as one of L.A.'s premier Peruvian eateries, Picca has helped focus attention on the food-friendly potential of pisco, as well as its seasonal appeal. To that end, bartender veterans Julian Cox and Nick Meyer invented The Boots With the Fur, a warming cocktail combining apple brandy, almond and ginger with a particularly earthy expression from Macchu pisco. The mint-garnished cocktail, served in a Moscow mule mug, pairs well with savory fare such as unagi causa topped with avocado mousse.
New restaurants and new drink menus are experimenting with ways to expand pisco's reach. When it opened late last year, Rose Cafe in Venice centered the spirit in its trademark cocktail: the Rose All Day. The drink merges gin, grapefruit and rosé with a moscatel pisco for a beach-friendly sipper.
"Pisco is still an emerging product in the United States, but more bartenders are incorporating it," says Suchan. "It is the bartender's responsibility to know which pisco to use for various recipes and which can accentuate the natural flavours of each grape varietal in a specific cocktail."