Passionfruit Pisco Sour
---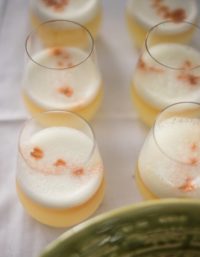 A refreshing tropical twist on the classic Pisco Sour
Passionfruit Pisco Sour is one of many variations of the traditional Pisco Sour that you will find served in bars across Peru. Passionfruit is known as maracuyá in Peru. While you can use any tropical fruit flavour as an addition to your pisco sour, for summer we love the addition of passionfruit – not only because it tastes great but it also delivers a real sense of flavour, colour, vibrancy and tropical feel of Peru. Enjoy!
Ingredients:
180 ml Vinas De Oro Pisco Puro Quebranta
120 ml passionfruit puree – strained
100 ml lime juice
80 ml sugar syrup *
1 – 2 egg whites
1-3 drops of bitters (Peruvian Amargo Chuncho or Angostura bitters)
Pop all ingredients (excluding the bitters) into a blender with a few ice cubes.
Blend for 1 minute until thick and frothy.
Pour into short glasses and top each glass with 1-3 drops of bitters, making sure to allow the bitters to sit on top of the froth and avoid mixing them through the cocktail.
Serves 4
* Sugar syrup is made by gently heating equal quantities of sugar and water, and stirring until the sugar is dissolved. Cool before using. Will keep in a sealed container in the fridge for up to 1 month.
Photograph credit: Marzena Alonso