The Original Pisco Punch: invented in San Francisco in the mid 1800s
---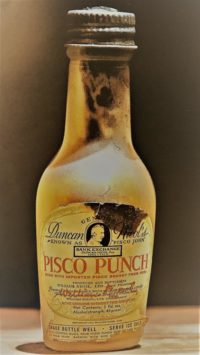 The original Pisco Punch, invented by Duncan Nicol at the Bank Exchange Hotel around 1853, was a favourite in the booming cocktails scene of San Francisco at the time. Brought from Peru to the California gold fields by prospectors travelling via sea from Europe and the east coast of America, Mosto Verde Italia was the original base for one of the most famous and popular drinks during most vibrant times in US history.
The punch was sold for 25 cents a glass – which was a high price indeed during the 1800s. The drink was so potent that they would not serve a patron more than two drinks in 24 hours.
The recipe for the punch was never written down and was only even made in private with his assistant who was a deaf mute and had no way of communicating the secret recipe. Research tells us that the original Pisoc Punch was made from a combination of pisco, pineapple, lime juice, sugar, gum arabic and distilled water. There was also talk of a 'secret ingredient' which is now widely believed to be cocaine!
Nicol's Pisco Punch gained worldwide fame and was immortalised in 1889 in Rudyard Kipling's book From Sea to Sea where he described it as "compounded of the shavings of cherub's wings, the glory of a tropical dawn, the red clouds of sunset, and the fragments of lost epics by dead masters".
Unfortunately, Prohibition closed the doors of the Bank Exchange in the 1920, and Duncan Nicol died soon thereafter – taking the exact recipe to his grave.
We're proud to say that The Pisco People is the only importer in Australia of the delicious and historically significant Pisco Mosto Verde Italia. Check out our version of a Pisco Punch you can make at home – simple to make and beautifully complex for a classy, classic cocktail experience.