Celebrate the Peruvian Chilcano during Semana Del Chilcano
---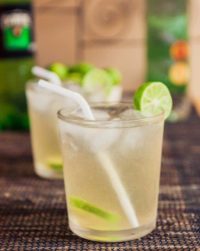 Visitors to South America will have heard of, and more than likely tried Peru's national drink – the Pisco Sour. There is also another pisco drink that is growing in popularity, particularly with the youth of Peru. That drink is the easy to prepare and delightfully refreshing Chilcano.
Based on the Moscow Mule invented in 1941, there is not a lot written about the origins of the Peruvian Chilcano or the origins of the name. Some believe that the Peruvian version of the Moscow Mule originated from Chilca Beach, just south of Lima, where a bartender in Chilca had the last name of "Cano", thus creating the "Chil-Cano." Others claim the drink is named after "Chilcano" soup, which is a spicy Peruvian fish-head dish said to be a great handover cure.
Such is the popularity of the Chilcano, Peruvians have nominated a week in January of each year to pay tribute to the cocktail. The celebration, called "Semana del Chilcano", runs from 12 – 22 January 2017. During that time bars and restaurants in the capital city of Lima, and the provinces around the country of Peru, celebrate the Chilcano cocktail. If you are not planning to visit Peru during Semana del Chilcano you can make your own Chilcano at home.
Ingredients:
• 60 mls Peruvian Pisco
• 1 tablespoon (15 ml) freshly squeezed lime juice
• 3 drops Bitters (Angostura or Amargo Chuncho)
• 120 mls ginger ale (or ginger beer if you prefer)
To make the drink, all you need to do is fill a long glass with ice cubs, pour the pisco over the ice and add the lime juice. Splash in the bitters and then fill the remainder of the glass with ginger ale.
Content and image credit to provechoperu.com and Gretchen Noelle