Pay Homage to the Pisco Sour in February 2018
---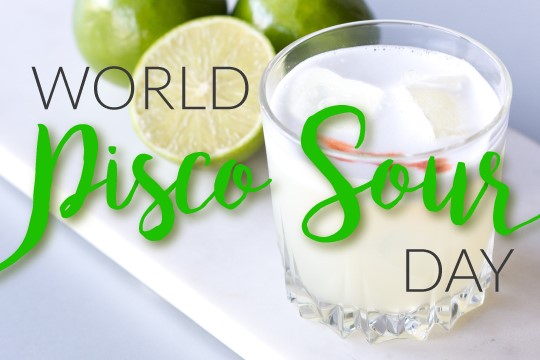 Join us to pay homage to the pisco sour during February 2018.
On the first Saturday of February each year, Peruvians come together to honour their national drink pisco sour. With a public holiday for Día del Pisco Sour (Pisco Sour Day). Such is the significance of pisco sour internationally the rest of the world also pays homage to this cocktail on World Pisco Sour Day celebrated on February 7th each year.
The Pisco Sour was originally created by Victor Vaughen Morris, an American bartender from Utah living in Lima in the early 1920's. Born in 1873 in Salt Lake City, Utah, Morris came from a family of prominent Mormons, yet the family was known to have a wild side and they also liked to drink!
In 1916, Morris who had been known for his amateur bartending skills in Salt Lake City opened Morris' bar in the heart of Lima. He then began experimenting with Pisco Sour and subsequently made his name as the inventor of the drink of choice for aristocrats and expatriates living or visiting Peru in the 1920's. Following Morris's death from cirrhosis of the liver in 1929, his pisco sour recipe survived in the hands of Mario Bruiget, a Peruvian bartender who also worked at Morris' Bar. Morris's original recipe for Pisco Sour underwent several changes, with Bruiget attributed to creating the modern version by adding bitters and egg whites to the mix in the latter part of the 1920s.
The popularity of the Pisco Sour continued to grow in Peru and abroad. Earnest Hemmingway was a fan of the Pisco Sour which he discovered when he travelled to Peru for a fishing trip. At the same time, pisco was a favorite drink of Hollywood celebrities, including John Wayne, who was married to a Peruvian and a connoisseur of beautiful handcrafted pisco from her homeland. The Pisco Sour has survived in popularity right up to the current day, and has been officially claimed as Peru's national drink.
If you can't get to Peru for Saturday 4 February you can still join our Peruvian friends in paying homage to their national drink.
The Pisco People, Australia's experts on all things pisco, have sourced the traditional Peruvian pisco sour recipe which you can make at home
Pisco Sour Recipe
(Creates 4 cocktails)
The classic Peruvian Pisco Sour combines pisco, lime juice, sugar syrup and egg white with a dash of Angostura or Amargo Chuncho bitters.
Ingredients:
• 1 cup pisco – The Pisco People suggest Cuatro G's or Viñas De Oro Quebranta
• 1/3 cup fresh lime juice
• 1/3 cup sugar syrup*
• 1 tablespoon of egg white
• A handful of ice
• Angostura or Amargo Chuncho bitters
Note: Sugar syrup is made by boiling equal quantities of sugar and water until the sugar is dissolved. Cool before using. You can keep your sugar syrup in the fridge for up to 6 months.
Method:
The easiest way to make the perfect Peruvian Pisco Sour at home is to use a blender.
Add the ingredients (excluding the bitters) into your blender and blend for one minute until thick and frothy and  ready to serve. Pour into four glasses and top each with 1-3 drops of Angostura or Amargo Chuncho bitters, making sure the bitters sit on top of the froth, avoid mixing it through the cocktail.