Ica Valley – the heartland of pisco
---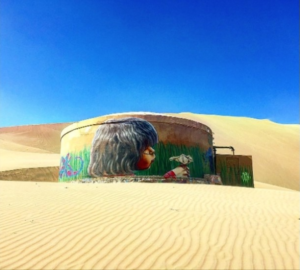 One of five legislated pisco grape growing regions and the heartland of pisco production, the Ica Valley is one of the driest places on earth. Located south of Peru's capital Lima, the Ica Valley extends over 7,000km along the desert coast of southern Peru.
The area was originally inhabited by indigenous tribes, including the Nazca civilisation famous for creating the Nazca Lines. In 1563 the Spanish conquistadors claimed Ica as the first city in the Viceroyalty of Peru. The conquistadors brought grapes from the Spanish ruled Canary Islands and the local Jesuits set about cultivating vineyards to make wine for the holy church. Left over grapes were given to locals who set about making a distilled spirit called aguardiente' (fire water) which went on to become known as 'pisco'.
Referred to by Peruvians as the "Land of the Sun", the many days of sunshine in the Ica Valley make this an important agriculture centre in the region. The Ica Valley has a tropical latitude, a 400 meter elevation and close proximity to the cooling sea breeze from the Pacific Ocean. Combined with many days of sunshine the area has consistent warm days and cool nights. The vines are sustained by aquifer fed glacial melt water from the Andes Mountain range. The dry desert climate of the Ica Valley has never recorded a single drop of rain and no frosts.
The special climatic conditions mean the vines in the region produce grapes with a high sugar content and a low acidity – perfect for pisco but not good for wine. Unlike other farmers, the absolutely consistent weather conditions ensure a high predictability of the year to year pisco grape harvest.
The high sugar content of the grapes produce high alcohol when the sugar is converted to alcohol during the fermentation process. Because of the low acidity of the grapes, pisco does not require ageing in wooden barrels or casks in the same way that products like cognac need to rest in wood to soften the acidity of the cognac grapes.
Today the Ica Valley continues as the home of the pisco grape alongside other crops including cotton, asparagus, avocado, mango, and olives.