Pisco Fever Hits Tales of the Cocktail 2017
---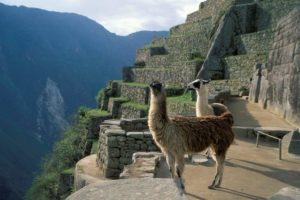 Pisco fever has hit Tales of the Cocktail 2017 with a dedicated pisco tasting room.
Pisco has long been established as part of American cocktail culture, dating back to the 1870's with Pisco Punch invented during the California gold rush, followed by the Pisco Sour invented in 1920 by an American bartender living in Lima during prohibition.
Although Duncan Nicol took his secret Pisco Punch recipe to the grave, the Pisco Sour was quickly adopted by bars across South American and went on to be embraced as the national drink of Peru. With the Pisco Sour featuring on cocktail lists in bars across the world, only a small number of bartenders have put their modern mixologist skills to the test to explore pisco cocktail options beyond the pisco sour.
To demonstrate the versatility and mixability of pisco, this year's Tales of the Cocktail (TOTC) in New Orleans played host to a pisco party called "What Would Pisco Do?" (WWPD).
A collaboration of five of the major producers of Peruvian Pisco (Pisco Portón; BarSol; Cuatro G's; Macchu Pisco and Pisco 100), the TOTC pisco party showcased modern pisco cocktail creations from some of America's best bartenders. The likes of Tony Abou-Ganim, Dale DeGroff; Jackson Cannon Nathan Dalton; Megan Deschaine; Lynnette Marrero and Aaron Polsky introduced eight cool cocktails ranging from stirred and boozy, to blended and refreshing, with cocktails named the Llamas Pyjamas, East of Ica and Maracuya Freestyle!
See below for the WWPD Pisco Party cocktail creations from Tales of The Cocktails 2017.
Delicia by Tony Abou-Ganim.
Ingredients: 45ml Italia; 22.5 ml ginger Liqueur; 60 ml cloudy unfiltered apple Juice; 45 ml fresh lemon sour (made from 2 parts fresh filtered Lemon Juice and 1 part simple syrup); chilled ginger beer; 1 dash Dale DeGroff Pimento bitters; apple & lemon slices for garnish.
Preparation: In a mixing glass add Pisco, Canton, cloudy apple juice, Dale DeGroff bitters and fresh lemon sour; shake with ice until well blended. Strain into an ice filled Collins glass. Top with chilled ginger beer, stir to mix and garnish with two slices of apple and lemon.
Coctel Algeria by Dale DeGroff (adapted from the La Fonda Del Sol menu 1960).
Ingredients: 45 ml Quebranta; 22.5 ml Marie Brizard Apry; 30 ml fresh orange Juice; 7.5 ml lime juice; dash Regan's Orange Bitters No. 6.
Preparation: Shake all ingredients with ice and strain into a chilled coupe glass. Flame an orange peel over the top and drop into the drink.
A Huevo by Nathan Dalton.
Ingredients: 90 ml Leche de Monja*; 22.5 ml passion fruit puree; 90 – 120 ml ginger beer.
Preparation: Build on crushed ice and top with a jambu flower nestled in an orchid.
*Leche de Monja is made by covering uncracked eggs in lime juice for two weeks during which time the lime juice will eat through the shell. Blend the eggs and lime juice mixture and strain. Mix 2 part egg/lime juice mixture (32.5 ml Quebranta and 32.5 ml Egg Lime Mixture) with 1 part (15 ml) Falernum.
The Llama's Pajamas by Nathan Dalton.
Ingredients: 60 ml fresh-made coconut milk*; 30 grams sugar; 30 ml Pisco Acholado; 1 egg; 30 ml heavy cream; 30 ml whole milk.
Preparation: Shake all ingredients together. Pour over ice into a rocks glass and top with grated nutmeg.
*Take the pulp of one Coconut with 1/3 weight of pulp in coconut water. Mix together in a small pot over low heat until simmering. Remove from heat and chill before use.
Precious Punch by Aaron Polsky.
Ingredients: 45ml Pisco Acholado; 15 ml Brovo Amaro #14; 15 ml Giffard Abricot.
Preparation: Stir with ice, strain into coupe.
East of Ica by Lynnette Marrero.
Ingredients: 60 ml Pisco Italia; 22.5 ml Amontillado Sherry; 1 tsp. fresh lemon juice; 7.5 ml fresh pomegranate juice; 15 ml cinnamon simple syrup.
Preparation: Shake with ice. Serve in a coupe and garnish with a dried apple slice and pomegranate seeds.
Solo Rosa by Jackson Cannon.
Ingredients: 60 ml Pisco Torontel; 22.5 ml fresh lemon juice; 22.5 ml honey and ginger syrup; dash Peychaud's Bitters.
Preparation: Shaken over ice and strained into a cocktail glass.
Maracuya Freestyle by Megan Deschaine.
Ingredients: 45 ml Pisco Acholado; 30 ml Giffard Passion Fruit Liqueur; 15 ml fresh lime juice; 7.5 ml fresh lemon juice; 15 ml St Elizabeth Allspice Dram; ginger beer;
Preparation: Shake all ingredients with ice. Serve on the rocks, float with ginger beer, and garnish with a fresh grating of nutmeg.
Reference: Chilled Magazine Article 15 August 2017 article "Pisco Tasting Room at Tales of the Cocktails"