Alliance: a perfect spritzy spring cocktail
---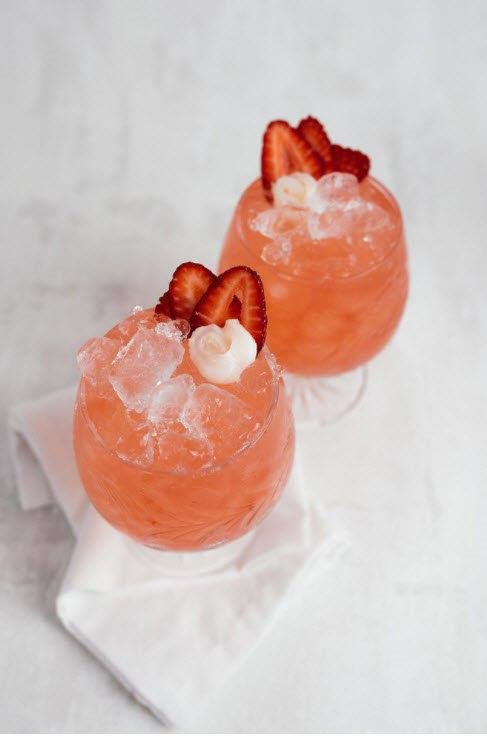 Alliance is a spritzy pisco cocktail perfect to celebrate the start of spring in Australia. Made with Acholado (a blend of 2 or more pisco grapes) with lime juice, ginger syrup, strawberry and lychee puree, topped off with sparkling wine. This drink is super refreshing and delicious to enjoy during spring and summer … or anytime of the year!
Although pisco was a big part of the US cocktail scene in the late 1800's and early 1900's, access to this spirit went into decline at the time of Prohibition. Despite a more than 400 year old history, pisco is seen as a relatively new product category for many modern bartenders.
To mark the resurgence of interest in Peruvian pisco in the US, two legends of the game came together to create a new pisco cocktail. Aptly named 'Alliance', the drink is the result of a collaboration between Dale DeGroff (New York cocktail legend, author and founding president of The Museum of the American Cocktail in New Orleans) and Tony Abou-Ganim (Las Vegas cocktail legend and author of The Modern Mixologist: Contemporary Classic Cocktails).
In an interview the Francine Cohen for Chilled Magazine at this year's Tales Of The Cocktail, Dale and Tony had the following to say about working with pisco:
Dale: "Pisco is unique because of the yeast and grapes being used. There's really nothing in the world like it. They don't have any rainfall and so the yeast grows on the skins and never gets washed off. They have unique yeast cultures on the skin of the grapes that create unique great flavours."
Tony: "Pisco is a spirit that celebrates the terroir. It's all grapes and how the master distiller handles them and puts it in the bottles. It really is a gift from God. It hasn't been manipulated with any additives – not even water, no wood aging. Just a celebration of the grapes grown in the Ica valley and the people who live there. It's a celebration of the Peruvian culture. That works been done for you, just don't mess it up."
Check out the recipe below:
Alliance
Ingredients:
• 60 ml pisco (use Acholado or Mosto Verde Acholado)
• 15 ml fresh lime juice
• 15 ml ginger syrup
• 30 ml strawberry-lychee puree
• 60 – 90 ml Brut Champagne or sparkling wine
Preparation:
In a cocktail shaker, add pisco, fresh lime juice, ginger syrup and strawberry-lychee puree; shake with ice until well blended. Strain into an ice filled Collins glass and spritz with chilled champagne. Garnish with sliced strawberries and lime slices.
Source: Interview by Francine Cohen for Chilled Magazine – July 2017