El Capitan Cocktail is Peru's version of the Manhattan
---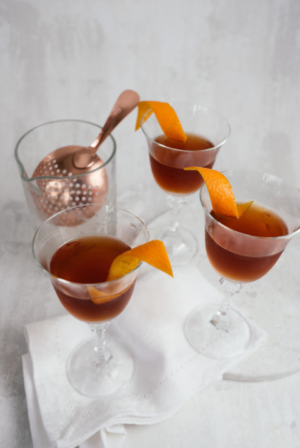 The El Capitan cocktail is Peru's version of the Manhattan – one of the four most common mixed drinks in Peru,
There is no exact date the cocktail can be traced back to, though it is thought to be invented sometime after 1854 when many Italians immigrated during the Italian Unification. Those Italians heading to Peru brought with them experience in distilling the grape based spirit "grappa". They are also the most likely source credited with the introduction of Italian red vermouth to South America.
Legend has it the cocktail originated during the 1920s when it was the drink of choice for Peruvian army generals who rode on horseback in the altiplano (highlands) near Puno. Apparently after making their nightly rounds, it was their custom to request a shot pisco and vermouth mixed together.
Over the years, the recipe moved from Puno to the capital Lima, where it is now one of the four most common pisco cocktails served in Peru (alongside the Pisco Sour, Chilcano and Algarrobina).
How to make an El Capitan
The El Capitan cocktail is made by mixing equal quantities of pisco (60 ml) and red vermouth (60 ml) in an ice filled mixing glass. Most commonly served strained in a chilled martini glass, garnish with a twist of orange or lemon peel, an olive or cocktail onion, or just as often no garnish at all.
So if you are a Manhattan cocktail lover you definitely need to give the El Capitan a go!