Celebrating Christmas in Peru
---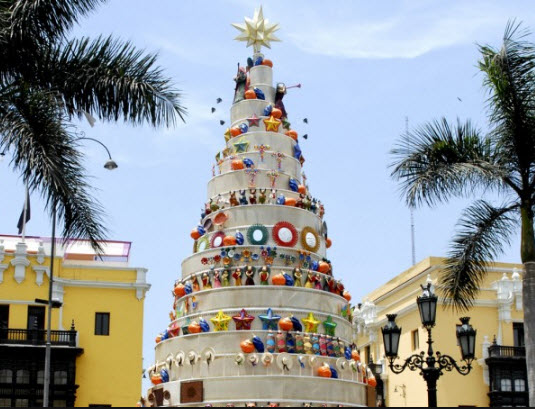 It is believed that celebrating Christmas in Peru dates back to 1535, around the time of the arrival of the Spanish Conquistadors. Along with the grapes now used to make pisco, they also brought their catholic religion and the celebration of the birth of baby Jesus at Christmas.
Peru, along with many South American countries, celebrate the most on Christmas Eve, which is known as 'Noche Buena' (Good Night). First people attend a mass called 'misa de gallo' beginning at 10 pm. Families return after mass at midnight to toast the birth of Baby Jesus.
Like many countries food plays an important part in their celebrations. After mass it is common for families to sit down to a traditional roast turkey dinner with a variety of salads and side dishes flavoured with a Peruvian twist. The adults toast the event with champagne while the children drink hot chocolate. For dessert it is common to eat 'paneton', a Peruvian fruit cake similar to panettone.
After dinner many take to the streets to greet friends and neighbours to continue the celebrations. While the children have gone to bed the adults celebrate with music and dancing. To prepare their homes for the celebration, many families will clear their living and dining rooms of furniture to transform them into dance floors. These parties can go on until early morning, which means December 25th can often be quite uneventful while the adults recover from the celebrations of the night before.
Although Christmas trees are becoming more popular in Peru, the nativity scene is the favoured form of household Christmas decoration. Known as 'retablos' they are a form of folk art with paintings and carvings from wood or pottery, many of which extremely impressive and ornate. At first glance they look like a traditional Western nativity scene, however, when you take a closer look many of the animals in the Peruvian nativity scenes are llamas and alpacas instead of sheep and goats and also feature an Andean Mary and Joseph.
Traditionally the gifts are brought by Santa Claus, or Nino Jesus, and placed near the retablo. In some areas, particularly in the Andean region, gifts are not changed until the Epiphany on January 6th and brought by the Three Wise Men. It is typical in Peru that when each gift is given to the person, the two people hug, kiss each other on the cheek and say gracias (thank you) before the person receiving the gift opens the wrapping paper.