History of the pisco sour
---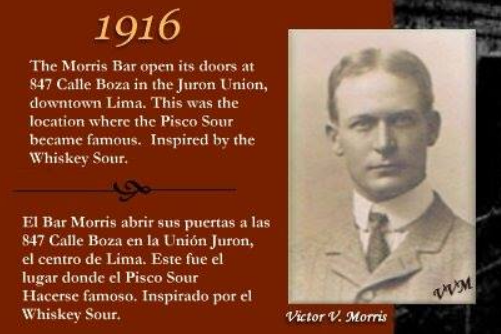 Every wondered about the history of the Pisco Sour…
What does a Mormon from Salt Lake City Utah, a florist, a bar room brawl, a cashier with the railway and a bartender have in common? Would you believe all are associated with Victor Morris who invented the Pisco Sour while living in Lima during the early 1920's.
Born in 1873, Victor Vaughen Morris came from a family of prominent Mormons living in Salt Lake City, Utah. Despite their religion the Morris brothers were known to have a wild side and they liked to drink! After the death of his brother in a bar room brawl, Morris a florist in Salt Lake City, started working as a cashier for the Cerro de Pasco Railway Company in Peru.
In 1916, after a decade of working with the railway Morris retired to Lima and opened the Morris Bar. Morris's bar was hugely popular with aristocrats and expatriates, living or visiting Peru, during the 1920's. While living in Peru Morris had come across the locally produced spirit – pisco. When he opened his own bar, Morris started experiment with cocktails made with pisco as the base spirit. Applying his amateur American bartender skills Morris went on to create the Pisco Sour, which has since been adopted as the National drink of Peru.
Following Morris's death from cirrhosis of the liver in 1929, his Pisco Sour recipe survived in the hands of Mario Bruiget, a Peruvian bartender who worked at Morris' Bar. Morris's original recipe for underwent several changes, with Bruiget attributed to creating the modern version by adding bitters and egg whites to the mix in the latter part of the 1920s.
The popularity and infamy of Morris's Pisco Sour continued to grow in Peru as well as abroad. Earnest Hemmingway was a fan of the Pisco Sour, which he discovered on  fishing trip to Peru. Pisco was a favourite drink of Hollywood celebrities, including John Wayne, whose wife was Peruvian. Pisco Sour has maintained its popularity right up to the current day.
As the national drink of Peru, the Pisco Sour is celebrated in Peru with its own public holiday on the first Saturday in February each year. Such is the popularity of the drink across the world, we also raise a glass to celebrate World Pisco Sour day on the 7th February each year.