Pisco sour recipe to make at home
---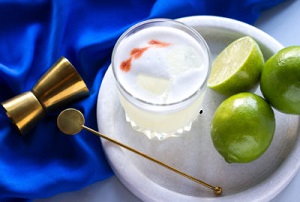 It is super easy to make pisco sours at home!
In accordance with the Peruvian way of doing things, we recommend you use a 3:1 ratio using the Quebranta style of pisco as your base spirit. If you are a dab hand with a cocktail shaker, you can make your pisco sour using the double shake method (dry shake then wet shake, or in reverse if you prefer).
A simpler and equally delicious option is to whizz up a batch of pisco sours in your blender or Nutribullet.
PISCO SOUR RECIPE
Serves 4.
INGREDIENTS:
240 ml Peruvian pisco (Quebranta)
80 mls fresh lime juice
80 mls sugar syrup*
1/2 – 1 egg white
Ice (handful)
1 – 3 drops bitters (Peruvian Amargo Chuncho or Angostura bitters)
METHOD:
Add all ingredients, except the bitters into a blender or Nutirbullet
Blend for 1 minute until thick and frothy
Pour mixture into four short glasses. For best results and more consistency of the cocktail, pour the mixture to half fill each glass then go back and top up each glass with the remaining mixture.
Top each glass with 1 – 3 drops of bitters, making sure to allow the bitters to sit on top of the froth and avoid mixing them through the cocktail.
* Sugar syrup is made by gently heating 1 cup water and 1 cup sugar then stirring until the sugar is dissolved. Cool before using. Store in a sealed bottle in the fridge for up to a month.