Distilling pisco the traditional way
---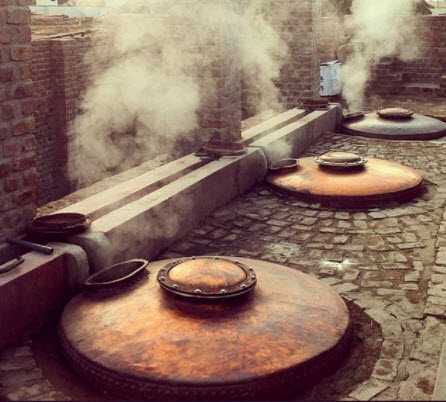 Adhering to the 400 year old tradition, when distilling pisco from freshly fermented grape juice it will be done in a small batch traditional pot still – either an alembique or falca still.
The traditional copper alembique pot still is more commonly used by Pisqueros in Peru. Each alembique is made by hand by a specialist craftsman who will make the copper pot still to meet the specific instructions of the master distiller. The alembique has a pot, where the grape 'mosto' (juice) is heated, a swan neck where the vapours rise and reflux, a lyne arm that transfers the vapour to the condenser, and a condenser which cools the vapour to yield the pisco distillate of between 38 – 48% ABV from a single distillation. The initial and final portions of spirit which condense (termed the heads and tails respectively) are captured separately from the "heart" of the distillation. This is because the head and tail contain high concentrations of methanol (which is toxic), or other congeners, which can add an unpleasant to the final product.
In contrast to the alembique, the ancient falca (flat top) still contains a percentage of gold in the copper to create a better quality pisco. These falca stills are housed in concrete and brick at ground level, leading below ground to the body of the stills and the heat source. Falcas do not have a swan's neck – instead they have a near horizontal 'canon' which captures the distillate en route to the condenser.
According to the master distillers we spoke to, the type of still used in the distillation process can affect the aroma as well as the flavour of the pisco. For example, pisco produced in alembique copper still tends to have cleaner aroma and taste because the swan neck does a better job of removing impurities from the distillate, including agricultural chemicals that have been used in the grape growing process. In contrast, the falca stills tend to concentrate the aromas and flavours producing a pisco with more body as well as conserving more of the subtle aroma of the grape variety. Typically, where distillers have access to both types of stills, they will use the falcas for distilling pisco from aromatic grapes and alembiques for distilling pisco from non aromatic grapes.