Month of Pisco – Win a trip to Peru
---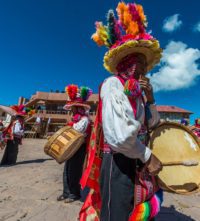 Commencing on 1 July 2016, The Pisco People and participating venues in Sydney and Melbourne will run 'Month of Pisco' to promote Peru's national spirit and prepare Australians to join Peru in celebrating their national pisco day on Sunday 24 July 2016.
To celebrate the inaugural launch of the Month of Pisco we are giving away a trip for two to Peru!
So …. what does one need to do win this trip? Just drop into any of the participating venues in Sydney and Melbourne and purchase a pisco cocktail made from any of the following premium brands of pisco – Cuatro Gs. De Carral, Pancho Fierro, Portón or Viñas De Oro. If you can't get into one of our participating venues you can also enter by buying a bottle of pisco from our website (with your 10% website discount bonus for the Month of July).
When you purchase your yummy pisco cocktail you will receive a competition entry card. All you need to do is fill in your name and email address, the name of the venue and the pisco cocktail you tried. It really is that simple! You have the opportunity to enter once per visit, which means if you are really serious about winning you can technically enter up to THIRTY ONE times between 1 – 31 July 2016 at each participating venue!!
Sponsored by The Pisco People in collaboration with Australia's leading South American travel specialists, Chimu Adventures and LATAM Airlines, the prize includes a 7 day trip to Peru for two people (flights ex Sydney) plus accommodation. With a value of more than $6500 this prize is valid for travel between 1 January – 31 December 2017, subject to nominated blackout dates.
The prize winner will be drawn on Wednesday 24 August and winner notified via email on Friday 26 August. The winner has seven days to claim their prize!
The Month of Pisco Terms and Conditions and Privacy Policy is available on The Pisco People website. For more information email us at info@thepiscopeople.com.au.